One interesting application that is quite booming right now is Snaptube. As someone who always updates about the trendiest video and music, you should get to know Snaptube. 
For those of you who may already have a huge list of videos or music to download but are still confused about what application to use, we highly recommend you to use Snaptube video downloader. Snaptube is a super recommended Android application to use as it allows anyone to download movies and videos from many platforms and/or convert video to audio.
This application has a very simple user interface. You do not need any special skill or knowledge to use it. Read the following section to get to know how to use it.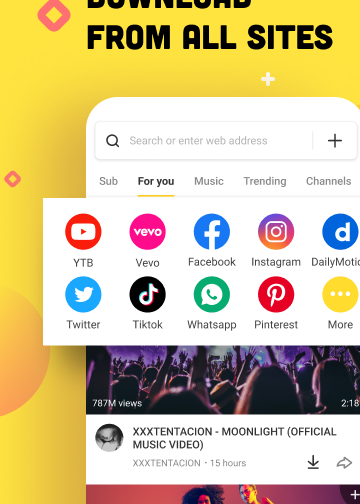 How to Download and Convert Video With Snaptube
Step 1. Get Snaptube's APK
As a third-party application, Snaptube is not available on Play Store, so we will have to visit the official website to get the APK.
Go to Snaptube official website and find the red download button to download Snaptube APK. Once it is downloaded, install it by granting permission to download it from an unknown source. 
Step 2. Launch the app and search for the video or audio
Snaptube itself is compatible with a search engine, you can simply type in any keywords on the search bar and it will automatically find the video or music. 
As an alternative, you can also paste the files' link on the search bar and play in on Snaptube. 
Step 3. Select the format and resolution then download
Tap on the thumbnail of the video and find the download button. On this menu, you will see a series of formats and resolution. 
If you want to download in video format, choose the MP4 option and select any of the resolutions, i.e. 360p, 480p, 720p, 1080p, 2K, and 4K HD video quality. 
To convert video to audio, simply choose the MP3 option and select any of its bitrates, i.e. 70 kbps, 128 kbps, 160 kbps, and 360 kbps. 
And it's DONE!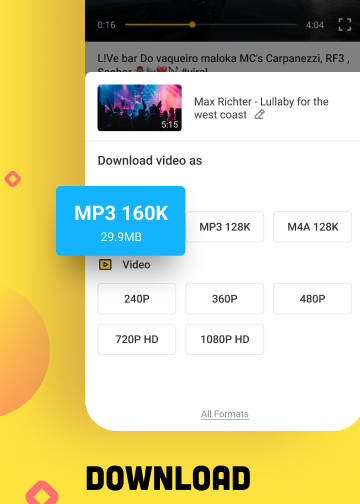 Best Features of Snaptube
Snaptube is a multifunction tool to download video, convert video, or manage your phone's gallery. With the presence of this application, you can collect various interesting videos that exist on the internet. We know that there are lots of social media platforms that present interesting content, and yet, it's a shame that we can't download and watch it in offline mode. 
Hence, use Snaptube cause it has a lot of interesting features, for instance:
1. Support 50+ streaming and social media platforms
The best feature of Snaptube is that it supports more than 50 sources. We can download or convert videos from many major platforms like Instagram, Vevo, DailyMotion, TikTok, etc.
2. Convert video to audio instantly
You can not only download videos in MP4 format, but also in MP3 format. Snaptube is very multifunctional which makes it compatible with various purposes. It will be a shame if you do not take advantage of it!
3. Free with no download limitation
Even without any monthly or yearly subscription fee, Snaptube still allows you to download or convert as many videos as you like. Where else can you find this kind of features?!
4. Anti-virus or malware
Even though this application is not available on Google Play Store, it is still protected by a renowned security company like McAfee. Therefore, no worries that any viruses, bugs, or malware might be installed on your device as it is absolutely safe and secured.
5. No registration needed
No prior registration is needed and you can enjoy all of the features directly. Alternatively, you can also log in to your Google or Facebook account to store your download history.
6. Support dark mode
For you who like to watch in the dark, this feature will certainly be very useful. No need to worry about eye fatigue anymore, set the dark mode and watch as long as you like.
Conclusion
Find no more and use Snaptube to download and convert any videos you like. Snaptube is currently one of the best applications that everybody must have.
Do not forget to share this article and your experience with your friends and family. Good luck!