It was the gathering of crèmé dela crémé of the society in the capital city of Abuja when two movies "Trap" and "High Is The New Death" were premiered at the Silverbird Cinema.
The movies were to championed by National Drug Law Enforcement Agency, NDLEA were to promote the effect of drug abuse in Nigeria and why it's dangerous to the society.
The event witnessed the presence of Nollywood actress, Jumoke Odetola ( producer of Trap) and Sule Momodu (an officer of the NDLEA and producer of High Is The New Death).
The evening started with the screening of 'High Is The New Death' then followed 'Trap'.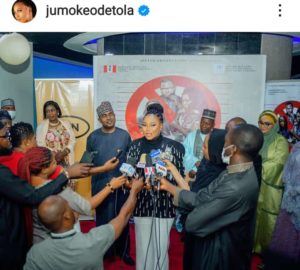 Speaking on the red carpet after the event with newsmen, the Chairman of the National Drug Law Enforcement Agency, NDLEA, Brig. Gen. Mohamed Buba Marwa (Retd) reiterated his stands on drug abuse and why parents must scrutinize their children and wards to prevent them from going into drugs.
According to him, the agency believes Nigeria celebrities hold the key to the egg to promote decency in the society, which prompted the partnership between the agency and them.
He urges parents to always be at alert and watch out for the kind of company their children keep.
He said:
"The most important lesson is we need to prevent the use of drug first. You have in Nigeria,15million addicts between the ages of 16 and 24 from a survey conducted by the UN who are into drugs. If that is the case, it means there are 200 million minus 15million who aren't into drugs. That's where the priority should be, prevention. As important as it is, if you face just the treatment, and forget about blocking others from getting in, it would just be a revolving occurrence. The most important parts of prevention starts with good parenting.
"As we watched in the movies, parents need to teach the kids about drug abuse when they have become knowledgeable about things. They have to train them to stay away from drugs because it's bad for the community, family and the society in general. Discipline has to start with the parents, they have to set good examples.
"Parents also should stay away from drugs, when they do drugs or send their kids to go buy drugs for them, they will certainly experiment it one day. Parents should take interest in the company that their children keep," he explained.
He added that on Thursday, this week, the agency is going to launch a help line. And the number to call is 080010203040. He explained that the number would be open to parents, children and those who need help to get advice on drugs 24/7.
He also speaks on partnering with the movie industry. "Why we collaborated with Nollywood is because actors in Kannywood and Nollywood are role models. Our youths look up to them and they copy what they see them do . And we try to encourage the actors and artistes to be of their best behaviour. For those who cross the line, you know we don't spear any body. We are encouraged by partnering with them and we appreciate their talents and good works," he commended.
For one of the finest actress in the industry and filmaker, Jumoke Odetola during an interview, she appreciates the chairman for supporting the industry and supporting her movie.
She explained that as a celebrity she has the power to change the mindsets of the youths, hence her movie Trap.
"I feel obliged because I know I'm a celebrity and have lots of people who look up to me. I know there are lots of people who are going through different challenges but can't express themselves. So I feel I have the platform, like you saw in the movie Jush, I'm doing it for every platforms, who unknowingly got into drug abuse by being in the company of bad friends. For every parents who unknowingly or subconsciously have an influence in the lives of their children, they feel they are doing the right thing.
"Some have taken them off their passion which could lead them into depression because they ain't doing what they love. Like we saw in the case of the musician, he got depressed because of social-media comments. Social Media has a lot of impact, some people seek validation from it. They do not believe in themselves enough. This is a collaboration with the industry and stakeholders because the youths copy what they see from celebrities and I feel I have the right influence on them."
"My passion for filmmaking as an SDG ambassador is to curbing the menace of drug abuse in our society, fueled by the energy and resources put into this. I want to say a big thank you to the chairman of NDLEA, Brig. Gen. Buba Marwa and his entire team for making this dream a reality," she appreciates.
Sule Momodu, who doubles as an officer of the agency couldn't hide her joy and appreciation as she thanked the chairman for his enormous support to actualising his long term dream.
"If you look at the year the film was produced and the film is being premiered in 2022, I think you would be able to appreciate why I had to thank the chairman. I think at times it's good to find a leader who actually understands what it takes to solve a problem. And I think for us in NDLEA, we are blessed with the chairman,he has a dream for us."
"I have done this job for so many years, what you just witnessed is a true life story. As a commander, I saw that play out. And I felt there's a need to actually see this film and learn from it. In the movie, you saw all what transpired.
"The mother of the addict took him to a rehabilitation center,on her way back she died. He went into relapse, took overdose and died. The dad ended up on a wheelchair with a stroke. It's a true life story, something we need to know about. Something we need to take time out to address the challenges and look at what our kids are into," he advised.