The Nigerian Football Federation (NFF) has disclosed that Nigerian players plying their trade in the Turkish league are safe, following a huge earthquake in Turkey.
NFF also expressed sadness over the incident even as it commiserated with Turkey over the loss of lives.
NFF President, Alh Ibrahim Gusau, disclosed this on Monday via the nation's football governing body's official Twitter handle.
NFF wrote: "The Nigerian Football Federation is sad about the unfortunate earthquake in Kahramanmaras City in Turkey. NFF President Alh Ibrahim Gusau has reached out to Nigerian players based in Turkey, and they have all confirmed that they are fine.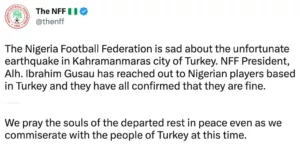 "We pray the souls of the departed rest in peace as we commiserate with the people of Turkey at this time."
More than 1,800 people have lost their lives in the disaster, with a further 6,000 injured, according to officials.
A massive aftershock with a magnitude of 7.5 hit Turkey's south hours after the original quake. Reports say it was felt once again in Syria and also Iraqi Kurdistan.