As the world leaders gather in Kenya East Africa, for the UN Habitat Assembly, a participant at the event under the International Association of World Peace Advocates IAWPA Amb Johnny Metchie has called on the global community to come to the aid of the people of Anambra state.
Amb Metchie who is the International Director of Africa for IAWPA said he hopes to draw attention to the sufferings which the people of the state are facing as a result of gully erosion which has become a threat to urbanisation and housing.
He said the Thematic debates and discussions during the Assembly will focus on the following topics:
Universal access to affordable housing, urban climate action, urban crisis recovery and localisation of the SDGs are critical to the survival of the people of Anambra state and other states in Nigeria that are facing environmental crisis.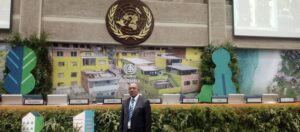 Amb Metchie said Anambra was fast losing its arable land due to gully erosion which was active on about 1,000 sites which he blamed on the nature of the soil.
He said Africa suffers from various climatic problems but in the case of gully erosion, the damage is comprehensive and total. Be it classrooms, community health centres, houses, crops, farmlands, roads, electricity infrastructure, livelihoods and all, everything collapses into the very deep gullies and nothing is recovered.
"Anambra State suffers from flooding and is also the headquarters of gully erosion in Africa, hence there is need to prioritise or even outrightly declare a climate change emergency in the state."