The Omaluegwuoku Progressive Initiative (OPI), an Ndigbo socio-political group, has mapped out strategies aimed at ensuring the victory of Asiwaju Bola Ahmed Tinubu in the 2023 presidential poll.
Leader of the group, Ambassador Ginika Tor, who spoke during the unveiling of 'Igbo Kwenu 4 Asiwaju', stated that plans were afoot to tour the six geopolitical zones of the country, to canvass the support of Ndigbo to achieve the objective.
Tor, who is a Commissioner in the Federal Character Commission (FCC), argued that the initiative was borne out of the need to bring Ndigbo on board the Asiwaju presidential project ahead of the 2023 polls.
She further enjoined Ndigbo to critically consider the personal qualities and experience profiles of Tinubu and his running mate, Senator Kashim Shettima, who have distinguished themselves in the governance of the country.
She particularly pleaded with Ndigbo in Lagos State to shun ethnic and religious sentiments and wholeheartedly support Tinubu in view of his performance when he administered Lagos State between 1999 to 2007.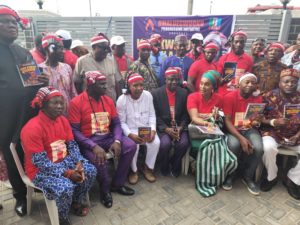 She noted: "How can you vote uncertainty against certainty?"
According to her, Tinubu laid the foundation for a modern Lagos State between 1999-2007 and leap-frogged the IGR from a paltry N600m per month to over N10bn monthly and it is upon that foundation that successive administrations of Lagos State have leveraged to continue to deliver dividends of democracy to Lagosians.
"This alone is enough for the Ndigbo to give him their votes and by doing that; they would have succeeded in voting competence, experience, credibility, accountability and selflessness," she added.
She also noted that the Governor of Lagos State, Babajide Sonwuolu, who is extremely passionate about Asiwaju's emergence, deserves the full support of Igbos in Lagos State considering that he has maintained good friendship with the Igbos.
"Under his leadership, today we have Igbo man as SSA, Enugu woman Maurine Chika Ashara, as Vice Chairman of Amuwo Odofin Local Government Area, a woman from Olu in Imo State Mrs. Edna Uche Ubochi is also the Vice Chairman of Ojo Local Government Area, three counselors, two female and one male from the SouthEast Region and many other positions occupied by the Igbos in Lagos, including that of Hon. Jude Idimogu representing Oshodi/Isolo Constituency 2 at the Lagos State House of Assembly. She emphasized that Igbos will do themselves more harm than good should they fail to vote for Tinubu," she added.
Among personalities that graced the town hall meeting held on Saturday were Eze Ndigbo of Oshodi Isolo-lga – Eze; Dr. Reuben Ibeakanma (Eze Udemba of Ezinifite); High Chief Iwu Odinaka Onowu Ndigbo of Ejigbo; High Chief Solomon Chukwu (Coordinator Obasa Movement Ndigbo); Ezenne Kate Emeruwa (Ochiora Nwanyi).