President-elect, Bola Tinubu, has expressed his unwavering commitment to delivering on his promises to revive Nigeria's growth trajectory, despite the challenges of corruption, poverty, and policy inconsistencies.
Speaking at the Inauguration Dinner/Gala Night organised by the Presidential Transition Council (PTC) at the State House Conference Centre in Abuja on Sunday night, Tinubu emphasised that his administration would not resort to excuses for any potential failures.
Addressing the gathering of invited Heads of State from around the world, Tinubu highlighted the valuable lessons that Nigeria's democracy has taught Africa and the world at large.
He praised the resilience, determination, courage, and unity in diversity exhibited by Nigerians, affirming that his administration would build upon the strengths.
Tinubu also humorously noted that even after his predecessor, President Muhammadu Buhari, departs for his hometown, he would always be accessible when needed.
"Here is a country that has faced numerous challenges but has never crumbled. Despite our differences in tongues and tribes, we remain united.
"We acknowledge the need to combat corruption, poverty, policy inconsistencies, and other issues that plague us. However, I do not seek pity; I willingly took up this role, campaigned for it, and I assure you that I will fulfill my obligations without any excuses," Tinubu said.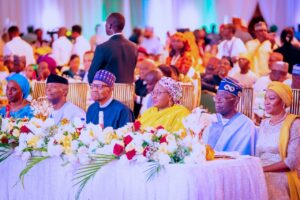 In his farewell address, outgoing President Muhammadu Buhari expressed gratitude to the distinguished guests who honoured Nigeria with their presence, underscoring the successful electoral process that restored power to the Nigerian electorate.
"I congratulate my fellow Nigerians for recognizing the power of their votes. I eagerly anticipate my return to my hometown and the tranquility of my cattle and sheep, which are far easier to manage than my fellow countrymen," Buhari said.
The First Lady, Aisha Buhari, joined by Tinubu, incoming First Lady Remi Tinubu, Vice President-elect Kashim Shettima, and his wife, unveiled a book titled, "Renewed Hope, Greater Together" during the event.
The grand occasion attended by the outgoing Vice President Yemi Osinbajo, witnessed the attendance of several notable world leaders, including the Presidents of South Africa, Sierra Leone, Ghana, Burundi, Liberia, Republic of Congo, Ethiopia, Central African Republic, Gabon, as well as the Prime Minister of Morocco, Vice President of Venezuela, and many others.