The Nigerian Creative industry has been evolving fast for some time now. More so, in recent years, its growth has skyrocketed, as members of the Nigerian creative sector are now gaining recognition, not just pan-Africa, but globally as well. In a country nuanced with many complexities, creative outlets are not just a hobby but have become a necessity and means of survival for many.
The digital age has made it much easier for Creatives' works to gain recognition beyond borders, more than we could have imagined. However, despite the stage being much bigger for everyone, women in the Nigerian creative landscape still face the challenge of overcoming stereotypes and biases. Therefore, it is of utmost importance that the narrative is quickly reshaped to create space and stories for women in the creative industry.
On the 20th of January The British Council, in collaboration with the Creative Arts and Visual Imagery Centre (CAVIC) Abuja, brought together creative minds to discuss the challenges faced in the creative industry, especially those faced by women. The discussion titled, "Women in the Creative Process: Overcoming Stereotypes" was attended by women and men seeking solutions to biases in the creative industry. The panel was made up of 3 amazing women who addressed the different issues and possible solutions to stereotypes in the Nigerian Creative Industry.
The first speaker was Chioma Agoawuike, an actor famous for starring in shows such as Halita and The Rishantes which air in over 40 African countries. The second speaker, Chioma Idigo, is a thespian who has a Master's degree in film production and has also starred in Film and TV across the African continent. Finally, the panel was made complete by Dolly Balogun, founder and creative director of the renowned art gallery, Retro Africa which serves as a point of convergence for artists and art lovers, showcasing the beauty of African art.
Speaking extensively on how women can bypass stereotypes, they addressed the challenges they faced and how they had to work past harmful notions to get to where they are.
The conversation started with talented actress, Chisom Agoawuike, as she expressed how a lot of people assume that women in film get ahead because of factors other than their talents. While she stated that she hadn't personally faced any stereotypes, this did not stop her from identifying with other women who have. We asked how women were expected to navigate the issue of coming off as overbearing or "bossy" when they tried to be assertive and she responded by saying that "women should continue to be assertive" but made it clear that she does not condone any form of bad behaviour from women. "While I do not subscribe to bad behaviour from women, I'll always root for a boss lady who can command respect and be a true leader." When speaking on the challenges women face, she addressed the need for women to stick together and support one another. Despite having strong roots in communal living, many facets of the Nigerian society seem to be taking a more individualistic stance.
Regardless, Chioma states that now more than ever women must advocate for one another, especially in the creative industry so they can be given the credit they rightly deserve. She advised that this be done by women-led funding and initiatives that are focused on training, supporting and marketing women in the creative industry.
While stereotypes are outrightly harmful, the most dangerous ones are the most subtle. They have the ability to etch their way into the subconscious, leaving people as unknowing perpetrators of these harmful generalisations. Therefore, the onus is on us to be more mindful of the narratives we drive. Speaking on handling the subtle stereotypes in the creative industry, Chisom says that she takes every opportunity she gets to speak against them while supporting projects and initiatives that help shine light on biases that exist in creative spaces.
Our creativity is often an expression of ourselves, who we are, and what we feel. Despite being encouraged to be our authentic selves, many women still find themselves boxed into gender expectations, with societal norms dictating what they can and can't do. Breaking out of these boxes can become such an overwhelming process, that one forgets to enjoy the journey. Chioma's advice to women in the creative industry is to never stop shining their light while using their talents for the greater good, and focusing on the positives.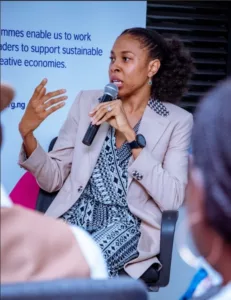 We also spoke to actress, presenter, and producer Chioma Idigo about her experience in the creative landscape, and the challenges she has faced. She starts by establishing the fact that gender stereotypes really exist in the creative industry but goes ahead to state that they are not significant enough to cripple the growth of any gender. In the same breath, she acknowledges that there are serious issues which need to be addressed in the industry.
Concerning how she deals with women being perceived as abrasive in the creative industry, she stated that it is an issue that cuts across different industries. She also addressed the need for women to be confident of what they have within as she said, "I think that women should, first of all, understand their worth and what they have inside." Additionally, she urged women to collaborate, rather than compete as they should "eliminate unhealthy competition amongst themselves in order not to fall into the temptation of unknowingly promoting this stereotype." She was all for being assertive but also struck this out as an avenue for ill manners.
While she understands that we are all on individual paths, and can simply focus on our respective journeys, she encourages women to "rise by lifting others", imagining a world where women truly support one another. Nonetheless, she does not place being a woman over merit and hard work. As should be the norm, Chioma urges women to work hard and put in the effort required of them.
Having worked across different countries, she has experienced and witnessed different biases and notions against women. But the standout stereotype, to her, has to be that successful women across board have not climbed the ladder mainly based on merit. "Well if I must mention a stereotype that bugs me, even though women have had to deal with it for hundreds of years across all walks of life, then it will be the fact that whenever a woman seems to rise or is starting to do good for herself, it is automatically attributed to her sleeping her way to the top or having a male sponsor". She is concerned that it gives young women the wrong impression about what it takes to succeed, not just in the creative sector but in general. However, with the exemplary work being accomplished and showcased by women in the industry, it is becoming clearer that hard work does pay off.
Slowly but surely, the reality is being reshaped to show the impact women have not just in the creative landscape, but in society as well. Speaking on dealing with deep-rooted biases, she says that the struggle seems to have been going on for years, with the onus being on everyone to un-learn and re-learn the values necessary to peacefully co-exist and thrive in the creative industry. Chioma also sang the praises of the film industry, claiming they have started to support and promote women in creative spaces. Rather than directing energy and time towards gender biases, she insists that the focus be on talent, work, and creativity. With the spotlight on these factors, she believes that there can be equity in the creative industry.
She also motivates women to put themselves in the mix. "To the women, please be bold enough and put yourself out there. The truth is, the more we put ourselves and our talents out there, the more we are likely to be included." Being a woman in the creative field comes with its own unique challenges, but Chioma insists that there be a focus on building up strength and nurturing talent if creativity is ever to be fully expressed.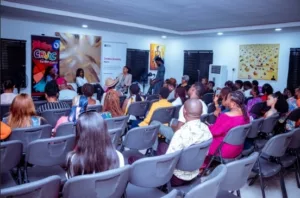 Head of Arts West Africa and Creative Economy Lead SSA at British Council, Brenda Fashugba, stated, "There's no doubt that gender stereotypes exist within the Nigerian creative industries. It's an industry where the technical roles are held mainly by men whilst women are left to take up roles on the performance side of the creative sector, reflecting the poor representation.
The Creative Hustle event on 'Women in The Creative Process- Overcoming Stereotypes' we hosted in Abuja is one of the ways in which the British Council helps resolve such challenges for creative entrepreneurs by facilitating conversations that yield solutions."
Working in the Nigerian creative industry can be quite challenging, to say the least. Working as a woman in the same industry presents an additional set of hurdles to be scaled. However, these women have proven that it is possible to achieve great success in this field, rewriting the narrative one milestone at a time. True trailblazers, their grit and creativity have helped them change the narrative into one that not only benefits women now but those to come as well. With growing success, the creative revolution is certainly here to stay.