Hydrangea House won the 2023 Noble Hall Leadership Academy for Girls inter-house sports competition in Abuja. The event took place at the school Sports Field in Idu campus, Abuja.
At the end of the ceremony, Hydrangea House topped the medals table with 325 points to push Dahlia House to the second position with 307 points.
Iris House finished third with 296 points, just as Tulip House finished fourth position with 292 points. 
Dignitaries from all walks of life, including parents, who turned out en masse to support their children, attended the colourful inter-house sports competition. It was not just the students that participated in the activity as parents, teachers, invited schools and old students took part in various activities.
Speaking to LEADERSHIP Sports during the occasion at the weekend, the principal, Noble Hall Leadership Academy for Girls, Ashish Gill, said sports and physical education are part of the school curriculum as they help to build the latent skills of students.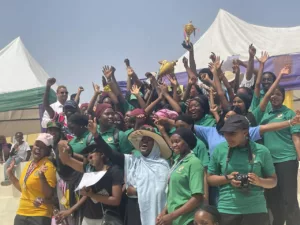 Gill noted that during the competition the students showcased talent sportsmanship and team spirit. 
"Various events were held such as basketball, football, volleyball, badminton, athletic track events, and as you can see team spirit and sportsmanship were observed."
On her part, a member parent council, Ifu Udemaduka, commended the teachers for their efforts, just as he thanked the parents and those who sponsored the event.
Udemaduka noted that team spirit fosters collaborative habits among students and motivates them to work together for achieving a common goal.
She added that the results of the students in both internal and external examinations have been impressive, scintillating, and superlative.