The Katsina State Police Command, on Friday, confirmed the death of 41 persons in Kankara local government area of the State after a terrorist attack in Yargoje forest.
Most of the victims were volunteers from neighbouring Bakori local government area of the State, who had regrouped and attempted to recover rustled livestock that was carted away by the terrorists from their area.
They were, however, ambushed by the marauders at Yargoje forest, who killed 41 of them and injured two persons.
In an interview with LEADERSHIP, the State Police spokesperson, SP Gambo Isah, who confirmed the incident, said the volunteers "traced the footpath of the hoodlums to a location at Yargoje forest. Unfortunately, the terrorists planned and launched a coordinated ambush on the Yansakai.
"The hoodlums shot and killed 41 Yansakai (Volunteers) and wounded two persons."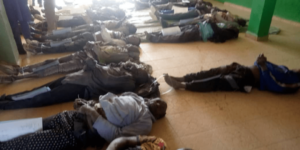 He further stated that the Police Area Commander in Malumfashi, led a team of Policemen to the scene and recovered the corpses and injured to Kankara General Hospital.
SP Isah added that a joint security operation has commenced to bring the perpetrators to book as investigation was ongoing.