There was high level euphoria in Kenya yesterday as personalities were yesterday decorated with Eminent Peace Ambassador appointment and award by the International Association of World Peace Advocates IAWPA through its International Director of African Affairs Amb Johnny Metchie.
Amb Metchie who presently is in Kenya with the International Spokesman of IAWPA Amb Emmanuel Nkweke where they will be attending the United Nations programme on habitat, decorated Bishop Chris Atemo, Evang. Mrs. Wanjiku Mwangi and Dr. Alezia Agbala as Eminent Peace Ambassadors.
The award / appointment highlights their contributions to the promotion of peace in the country and the East African region. The award which took place at the Tent Of Testimonies International Church in Nairobi, Kenya Was attended by dignitaries from far and near.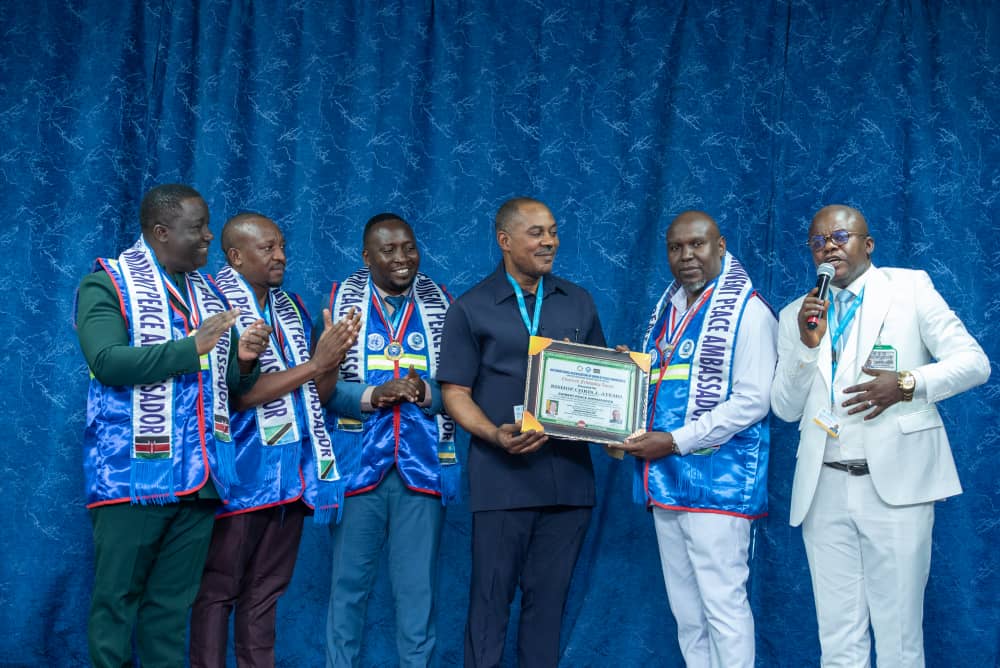 Speaking at the event, Amb Metchie urged the appointees to consider their appointments as a call to service for mankind. He said the quest for peace is an important quest which must be pursued by all mankind and considering the challenges faced in the country and Africa in general, it is imperative that influential personalities are appointed and decorated as Eminent Peace Ambassadors to help drive home the noble quest for regional and global peace.
Amb Emmanuel Nkweke the International Spokesman of the association also stressed the need for the recipients to match their appointments with actions. He said it is imperative that they engage various stakeholders towards ensuring that their impacts as peace ambassadors are felt not only in Kenya alone but in the entire subregion.
Amb. Metchie who is from Anambra state, told our reporter that he intends to use the UN conference to draw attention on the issue of erosion that is affecting his home state.
"You know I am an Anambra man and we have been suffering from the issue of gully erosion so my mission here aside the peace advocacy you know me for, is to ensure that the United Nations through its agencies, come to the aid of our people. We have suffered from this environmental crisis for too long and I thank God Almighty for being part of this conference which I hope to use to draw the attention of the whole world to the environmental crisis ravaging my state. Our governor is doing his best and I intend to compliment what he is doing through the presentations I will make today at the opening Session of the UN Habitat Assembly" Amb Metchie said.