The difficulties women go through to get sanitary pads can only be imagined. The situation is worse for female inmates who do not have the means to get money to buy a menstrual pad and in turn, are forced to suffer the ills of poor sanitary health practices.
To change the narratives, female inmates in Suleja Correctional Centre Niger State, in the Federal Capital Territory (FCT) are currently mass-producing about 10,000 reusable menstrual hygiene products worth millions of naira, as part of programme that has not only become a livelihood for them while in custody but has also improved the quality of their lives.
The executive director, PadUpAfrica, Ashley Lori, said prior to the training it was a great challenge for inmates to get menstrual hygiene products, adding that their problem persists primarily because prisons come under the purview of the government.
"Women also felt reluctant to ask for sanitary pads when it was the father or brother visiting. This reveals deep-rooted societal taboos in some quarters," she said.
Lori said the foundation was perturbed by United Nations Educational, Scientific and Cultural Organization (UNESCO) findings that one out of ten girls in sub-Sahara Africa misses school due to menstruation.
"If girls residing with their parents are facing this challenge, the inmates we believe are grappling with a more challenging situation because they are not working.
"Pad-Up Africa through sanitary sensitization has continued to devise practical ways to change the narrative within the shortest possible time," she said.
Lori said PadUpAfrica has trained 37 inmates in Suleja Correctional Centre on how to make reusable pads, adding that it has improved the quality of users' life and helped to address their menstrual hygiene issues.
"Getting pads to use during periods is a challenge to many girls and women, hence the introduction of reusable pads which has greatly improved the quality of life of users. Poverty and lack or no access to good menstrual hygiene products have pushed many girls and women to use newspapers, nylons, rags, and plantain cubs as menstrual pads.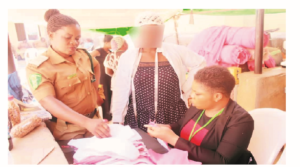 "With reusable pads, they also no longer have to worry about how to get another sanitary pad. So in terms of sustainability and menstrual health hygiene, it has improved the users' life," she said.
On funding and support, she said, "Capio our partners provided the fabrics and seven sewing machines and other sewing items for the inmates funded by Oxfam International."
She said the 37 inmates were carefully trained in producing reusable pads which according to her are simply pads that can be used during periods.
"One of the advantages of the reusable pad is that it is durable and sustainable," she said.
Lori said it has also provided means of sustainable income to the producers who are inmates as they now earn a living from producing the reusable pads.
In training the inmates, she said, "We ensure that they pay attention to details because these pads are designed similarly to disposable pads, and are worn the same way.
"When users are done using a reusable pad, it is then cleaned and ready to be worn again. With these, the inmates easily become less worried about buying menstrual pads every month."
She also stressed that the pads should not be used for more than four to six hours.
On how to clean and make it ready for use, she said, "It is pertinent to wash the reusable pads immediately after use with soap and clean water. The reusable pad should be soaked for five minutes in a clean bowl of water, with a pinch of salt to disinfect it. The reusable pad should be sun-dried and stored in a pad porch."
She said besides the fact that using reusable pads saves money, the materials in disposable pads are capable of entering the user's body via skin contact and can cause irritation.
"Reusable pad consists of pure cotton material, absorbent breast pad, and jersey material which is soft and non-irritable to the skin and vagina. There is also a waterproof material before the cotton material that makes it beautiful, while the snap button helps to hold the pant, all these materials can be sourced in Nigeria in Aba," she said.
Speaking further, she said reusable pads are very comfortable.
On how many times can users use a reusable cotton pad, she said it depends on the fabrics, adding that each manufacturer has different use specifications for their products, and mileage will vary per person.
"The cotton reusable pads we offer are designed to last for up to 100 uses with proper care," she said.
She stressed that both the human body and the environment can benefit from making the switch to reusable cotton pads as they're safer, convenient, money-saving, and comfortable, all while saving the earth from massive amounts of feminine product waste.
To encourage more production because fabrics are also quite expensive, she said PadUpAfrica has purchased reusable sanitary pads worth N1.2 million from the inmates which are subsequently distributed to female students and other women.
"Our major distribution of the reusable pad was in Niger Republic where we distributed 10,000 reusable pads. In Nigeria, we have distributed reusable pads to Senior Secondary School Mpape, Federal Girls College Bwari, Federal Girls College Owerri, Federal Girls College Lagos State, Government Secondary School Kabusa Abuja, Government Secondary School Gwagwalada, and Senior Government School Maitama Abuja," she stated.
Impact of the training
Lucy (surname withheld to avert stigmatisation) one of the inmates trained by PadUpAfrica said since she was freed from Suleja Correctional Centre her experience has been overwhelming as she is now producing sanitary pads for her personal use and commercial purposes in Lugbe Abuja.
"Since I was released from prison, I asked my family members for little support to buy fabrics and other sewing equipment, since then I have been selling my menstrual products in the community and I now experience a more comfortable period as I use the pads too," she said.
Likewise, Vera (surname withheld to avert stigmatisation) said she was happy with the skills she learned that made her self-sufficient.
She added that she now produces sanitary pads remotely and sells them in Gwarinpa Abuja.
Health buffer, stimulating economic empowerment of the community
An     activist, Onyeka Abdullahi said PadupAfrica is changing lives, and making a huge difference through its diverse and impactful programmes and projects.
On her part, Lori said the accessibility of the reusable pad has made it a preferred choice for most inmates in Suleja prison.
"We are poised to ensure that adolescent girls and women in Africa are not exposed to the health hazards of unhealthy menstrual hygiene materials and practices. Also, empower them through sanitary sensitization and donation of sanitary pads.
A medical health expert, Dr Obeth Solomon encouraged women to use reusable pads, saying they are reliable, eco-friendly, and can reduce the burden of non-biodegradable menstrual hygiene products on the environment.
"You can iron your reusable pads for sterilisation, while for communities with power problems endeavour to sun-dry it," he states.
Obeth, however, urged women not to be shy about asking questions about their menstruation to avert misinformation and misconception.
This story was supported by Nigeria Health Watch through the Solutions Journalism Network.