Over 500 residents and natives of Kpaduma 1 community in Abuja Municipal Area Council (AMAC) have benefitted from free Hepatitis B treatment and distribution of food, clothes, bags, and shoes worth over N3million from the Rotary Club of Asokoro District 9125 Nigeria.
The president of the Rotary Club of Asokoro, Rotarian Ebele Ezezue-Israel who spoke to journalists during the free treatment and distribution of food and clothes in the community yesterday, said they decided to touch the lives of the people who they believe need support in this period of economic challenges. She said the charity project was a 3-in-1 project which was the third dose of Hepatitis B vaccination.
"We are here to spread kindness, show love to people, and make them happy. Since the year is almost coming to an end. We have built school toilets and a library and we built the first borehole in this community for them.
"We are trying to show the people love, which we believe that in return, they will also show love to other people that they do not know. I am happy that once again, we can impact lives," she said.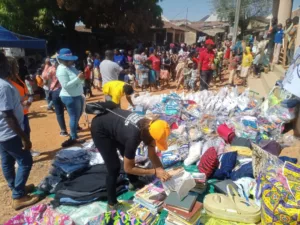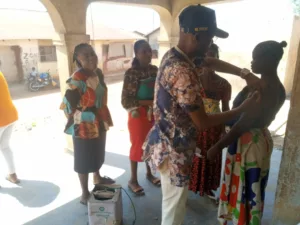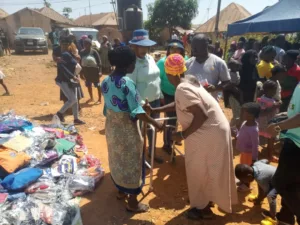 The past president of the Rotary Club of Asokoro, Rotarian Uchenna Akpa, said the club derives joy in impacting positively on lives, and that was the reason they always embark on community-based projects to improve the living standard of indigent people.
Also, the project team leader for 'Sharing is caring,' Rotarian Mary Correia explained that the club has been impacting the lives of people in communities over the years in different ways, and bringing people from different communities to empower them with money to start businesses.
"We decided to come to Kpaduma 1 community to bring people together and give them food items and clothes. This is what we do every year in different communities to put smiles on people's faces, mostly in a time like this when there is an economic meltdown, this can put smiles on their faces," she said.