Ambassador Yusuf Yunusa the Nigerian High Commissioner to Kenya today, received a delegation of the International Association of World Peace Advocates IAWPA who are in Kenya for the 2023 UN HABITAT ASSEMBLY.
The delegation led by Amb. Dr. Johnny Metchie the International Director For Africa also used the visit to decorate him as an Eminent Peace Ambassador.
Amb. Metchie also appointed him as Head, IAWPA Diplomatic Mission in Africa, this will see him heading the network the association with all foraign embassies and international organizations.
The event which took place at the Nigerian High Commission in Nairobi, Kenya was very successful.
Recall that world leaders are in Nairobi the Kenyan capital for the second session of the United Nations Habitat Assembly, Nigerians in the East African country have commended the representatives of the International Association of World Peace Advocates IAWPA for their proactive representation at the summit and for promoting the ideals of the global body as evident in their peace advocacy as well as drawing attention to the environmental plight of the country especially as regards the issue of erosion in the south eastern part of the country.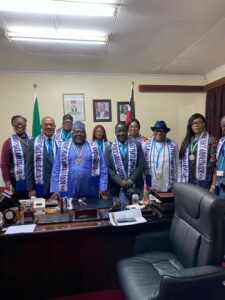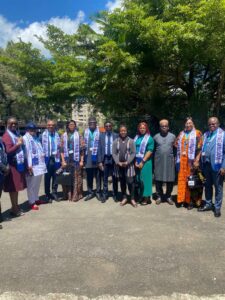 Recall that the International Director of African Affairs of the association Amb Johnny Metchie who is leading the delegation of IAWPA, had in the course of expanding the peace frontiers, decorated three leading personalities in Kenya with Eminent Peace Ambassador awards and appointments. This action has led to further expansion of the association in the eastern part of the African continent which is suffering from some security issues.
The delegation has also been proactive in drawing attention to the issue of environmental crisis which is affecting the south east leading to the decision to set up a 12 man committee to identify areas that are affected with a view to ensuring that global action is taken.