Abstract: DB Investing, a trading platform, recently came into focus following concerns about discrepancies in investor profits and account accessibility. Soon after WikiFX shed light on the matter, DB Investing promptly addressed the issue, returning funds to the concerned investor.
The Case Updated
DB Investing, the trading platform, that consumed an investor's profit, and locked his account, has brought itself into the spotlight. The investor, sensing a challenge, reached out to WikiFX for support. Recognizing the investor's predicament, WikiFX took immediate action. On August 10, WikiFX published an article highlighting the investor's concerns with DB Investing. The article underscored the challenges faced by investors and presented examples of where investor profits seemed to have inconsistencies, alongside account access concerns. Following the revelation, DB Investing quickly consented to refund the money and saved the reputation of the business in a timely manner.
After receiving a positive reply from DB Investing, the investor also contacted the representative of WikiFX, Hamza, and expressed his thanks to WikiFX. See below.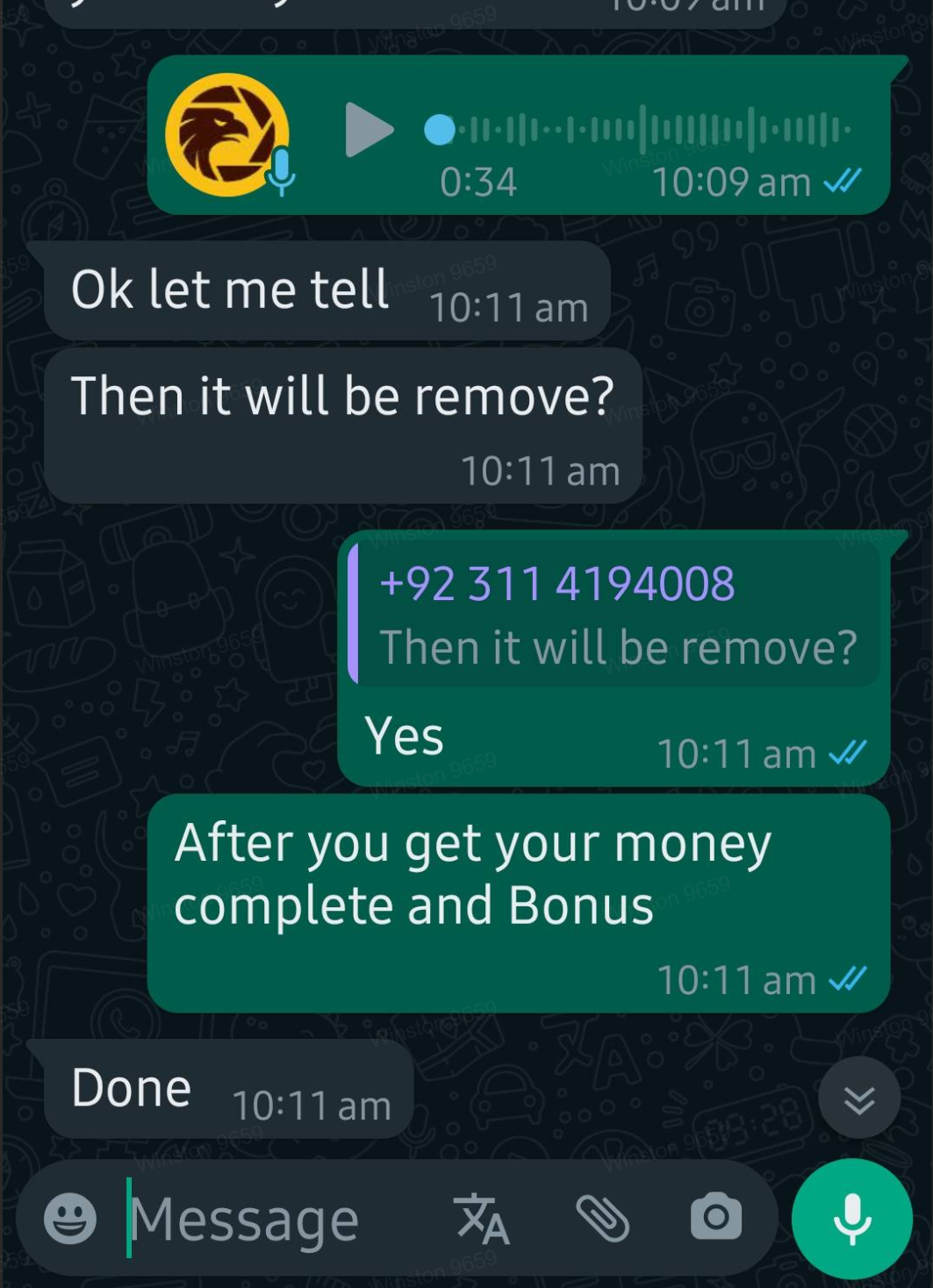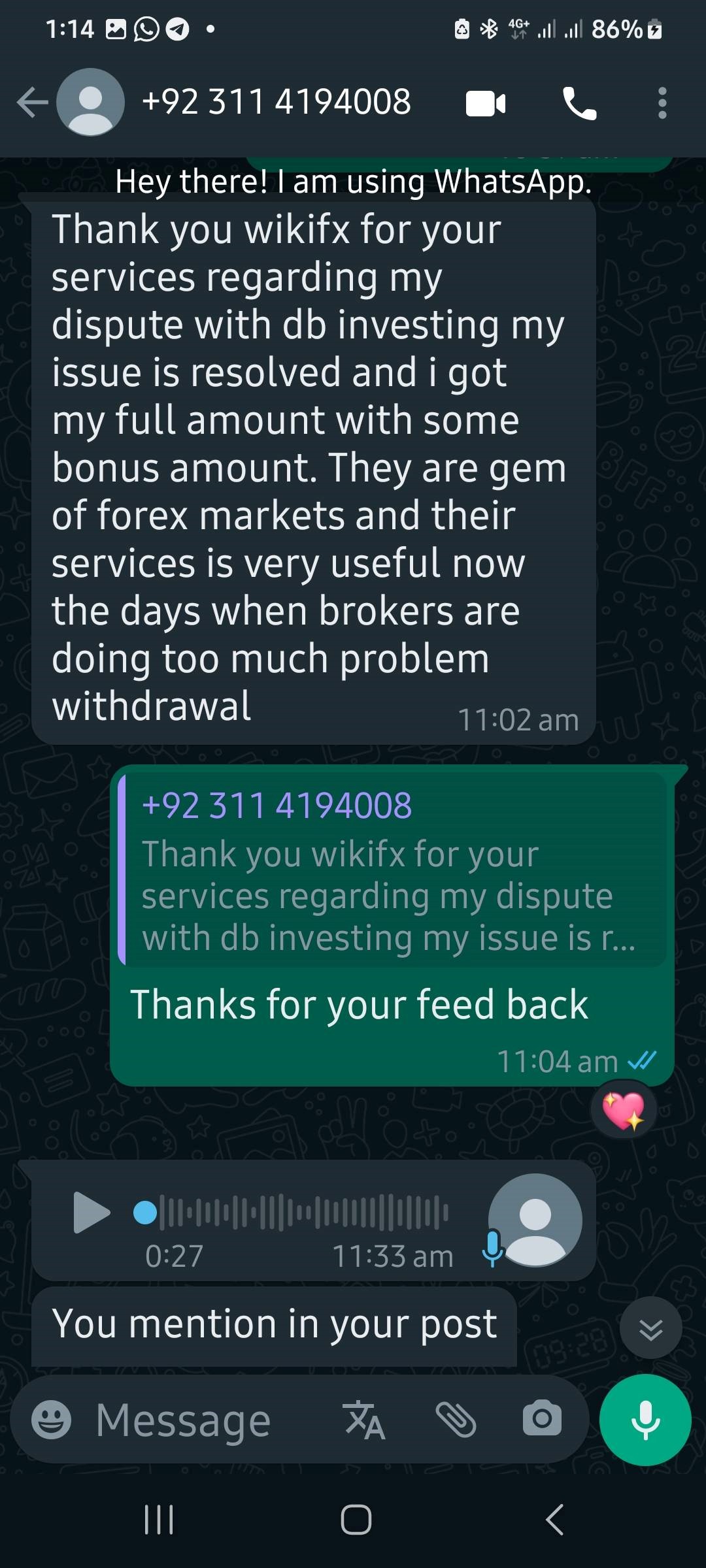 The Role of WikiFX in this Matter
WikiFX serves as a crucial intermediary between investors and the trading platforms they engage with. Protecting the legitimate rights and interests of forex traders is always the primary concern of WikiFX. In this role, WikiFX highlights any irregularities, bringing to light potentially unethical practices. In this event, WikiFX reveals questionable activities by companies, ensuring they are held responsible, leading to a more secure investment environment. After this situation came to light, DB investing quickly responded by taking specific measures to achieve a safer environment for investors.
More to Concern
A distinguishing feature between a dependable broker and less transparent entities is the ease of funds withdrawal. We are glad to see DB Investing return investors' hard-earned money with our help. Thus, the reputation of this broker remains no harm.
While DB Investing's prompt response to the exposure by WikiFX seems like a positive outcome, it's important to consider the broader context. According to reports, this particular investor was not the only one facing such challenges with DB Investing. Other investors have reportedly found themselves in similar situations, struggling to access their funds. We hope that DB Investing can fulfill investors' withdrawal demands as soon as possible.
Conclusion
The DB Investing situation emphasizes the potential hurdles investors might encounter in the intricate financial landscape. Although DB Investing's swift action post-exposure is commendable, it also highlights broader concerns in the investment industry. As a responsible broker, DB Investing's decision to take action following public attention indicates there might be areas to enhance in the regulatory framework. Platforms must prioritize their commitments to investors.
To prevent similar occurrences in the future, WikiFX will continue to protect the rights and interests of investors, stand together with investors, and speak out for investors. For insights on broker reliability, visit our website at (https://www.WikiFX.com/en). Or you can download the WikiFX APP to find your most trusted broker. Should you face challenges with any broker, WikiFX is here to assist. Reach our global customer service at +65-31290538 and +234-706 777 7762 on WhatsApp.