Stakeholders at the 2022 New Media Citizens and Governance Conference have called for the protection of the rights of citizens in the digital space.
This is coming amidst reported cases of social media restrictions and shutdowns by governments in Africa.
The call was made at a one-day hybrid conference organised by BudgIT, Enough is Enough Nigeria (EiE Nigeria) and Paradigm Initiative (PIN) under theme; "Protecting Digital Rights in Closing Spaces" held in Abuja. It is the fifth edition of the bi-annual pan-African New Media, Citizens, and Governance Conference (NMCG).
One of the keynote speakers, Anriette Esterhuysen, Outgoing Chairman, Multistakeholder Advisory Committee of the Internet Governance Forum (IGF) South Africa in her address said there was a need for increased civic participation in closing spaces.
She said, "Digital inclusion should be promoted, collaborative actions should be taken, there should be capacity building across the civic ecosystem (government, media, civil society)."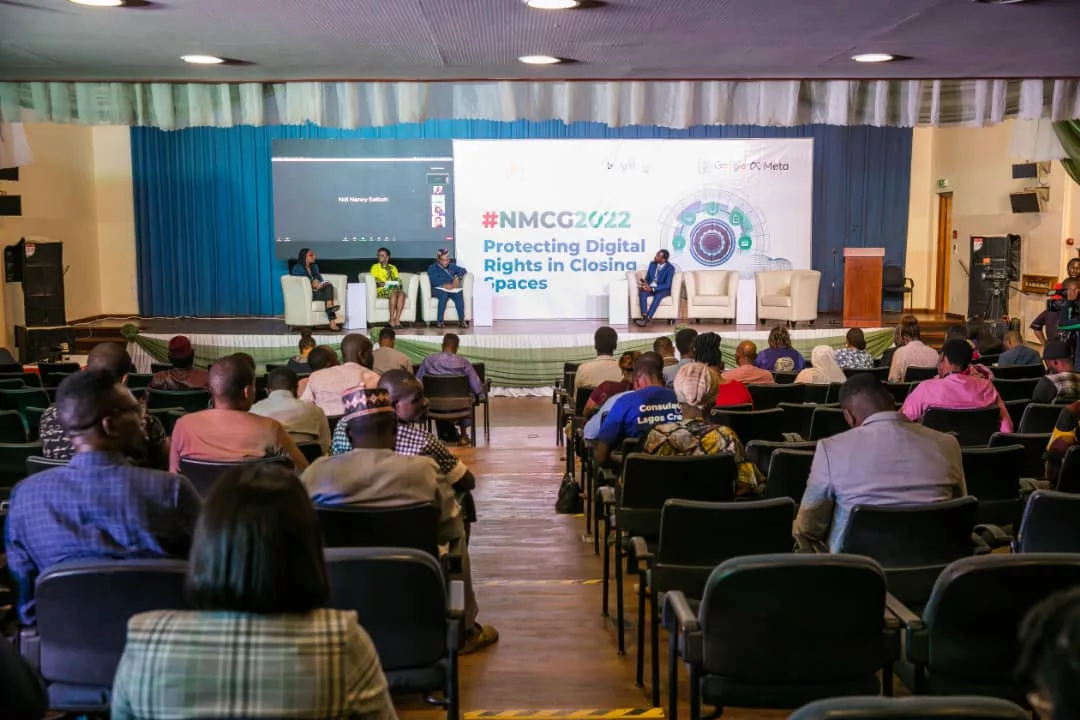 During the panel session on "Social Media and The African States: Restrictions and Shutdowns," executive secretary, National Human Rights Commission (NHRC), Anthony Ojukwu, SAN said most of the legislation being proposed is tilted towards regime protection, not the office of the citizen.
"One thing that social media has brought is information. The digital space has thrown information open and our leaders are struggling to tone it down. There's a need to find a way to harness social media so decisions can affect those offline,' he said.
He urged the media, CSOs and the public to harness the gains of social media advocacy and shape them into tangible issues that can be used to engage the government and drive positive change.
Also speaking, Ndi Nancy Saiboh, co-founder Actions For Development and Empowerment. Cameroon said social media is being used as a tool to intimidate citizens. She added that civil society can help hold the government accountable on protecting digital rights.
Saiboh said, "Our leaders understand that social media gives us the power to share our thoughts and say what we like and don't like.''
Also at a panel session on 'Data Privacy in Africa: Policies and Implications,' anchored by Khadijah El-Usman, PIN's Program Officer (Anglophone West Africa) she said Data Protection Authorities should be independent of the government and the Data Protection Bill 2022 should speak to emanating issues, new trends.
One of the panelists, Adeboro Odunlami, a lawyer and tech enthusiast said to talk about the legal landscape in data privacy in Nigeria, there is no data protection law. "There are several jurisdictions to data protection with agencies & MDAs, although there have no data protection mechanisms in place to safeguard citizens data."
Paradigm Initiative's program director, Ihueze Nwobilor said there is an urgent need for the government to pass the Data Protection Bill into law. "One of the greatest challenges we are facing today, is that if your privacy is breached, we don't have the laws. Even when you apprehend those that breached that privacy, we don't have enabling laws to prosecute them.
"So, what we are talking about is to put the legal framework on ground that can hold every player in the area of data and security of data accountable. So, one way we can do that is to get the government, the legislature and everyone involved in that deal to pass the data privacy bill."
The conference attracted key speakers drawn from Cameroon, South Africa, Zimbabwe, The Gambia, Ghana, Kenya and Nigeria.