Opposition parties are lining up to reap from the misfortunes of the All Progressives Congress (APC) as top northern Christian leaders of the party have asked their constituents not to vote for the presidential candidate of their party, Bola Tinubu, in the 2023 general elections over his choice of a Muslim running mate.
Presidential candidate of main opposition party, Peoples Democratic Party (PDP), former Vice President Atiku Abubakar; his counterpart in the Labour Party (LP), Mr Peter Obi, and in the Nigerian National Peoples Party (NNPP), Senator Rabiu Kwankwaso, are all positioning themselves as better options to protect the interest of northern Christians and win their votes in the upcoming election as they all have both faiths represented on their presidential tickets.
LEADERHIP Weekend reports that NNPP's Kwankwaso has Bishop Isaac Idahosa from Edo State as his running mate; LP's Peter Obi has Senator Yusuf Datti Baba-Ahmed, a Muslim from Kaduna State, as his running mate while PDP's Atiku Abubakar has Governor Ifeanyi Okowa of Delta State as his vice-presidential candidate. Conversely, APC's Tinubu, a  Southern Muslim, has Senator Kashim Shettima, another Muslim from the northeast, as his running mate, a decision that has not gone down well with many in the party, and outside.
Consequently, APC northern Christian leaders yesterday called on Nigerians not to vote for any tickets that are not mixed between Christians and Muslims, a direct attack on the candidacy of Tinubu and Shettima.
According to the APC northern Christian leaders, a Muslim-Muslim tickets is divisive and must be rejected by all patriotic Nigerians.
Speaking at the APC Northern Christian Leaders Summit yesterday in Abuja, with the former secretary to the government of the federation (SGF), Babachir Lawal; former Speaker Yakubu Dogara; former minister of sports, Solomon Dalung, Sen Ishaku Abbo and several other Christian leaders from the North, they declared that the insinuation that northern Muslims will not support a Christian running mate was untrue and divisive.
Former SGF, Babachir Lawal, who was the chairman of the occasion, said colleagues within and even outside the APC expressed shock and even disbelief over their reaction to the APC Muslim-Muslim ticket in the 2023 general elections, adding that it is a grand conspiracy against the Northern Christians.
"Our opposition has some historical basis," Lawal said. "There were times in the past when Christians produced the deputy governors in Kebbi, Niger and Kaduna states. Now they are wholly Muslim-Muslim tickets.
"It is worth noting that all these are happening in APC-controlled states. They are threatening to do likewise in Gombe, Kogi and Adamawa states.
"It is also now a recurring practice in the north whereby any Christian traditional ruler that dies is replaced with a Muslim prince albeit from the ruling family even if the most qualified and preferred prince is a Christian. The recent case of Billiri Chiefdom in Gombe State is still fresh in our minds.
"Proof of its anti-Christian agenda is that our party itself has completely eliminated northern Christians from its National Working Committee (NWC) and National Executive Committee (NEC). All our protestations as party members have been completely ignored by the party leadership. But as members of the APC, we have the right to continue to express our indignation at these happenings and will not give up until we secure the justice that is due us.
"The main purpose of this historical narrative is to let you know that for the APC, a Muslim-Muslim ticket has been a long-term political strategy and not a one-off decision. Thus, all this talk of competence as the reason for the choice of the Muslim VP is balderdash and diversionary. This is a calculated anti-Christian exclusion agenda that is being implemented."
Lawal wondered why the party authorities had not reacted to the wide-spread rejection of its Muslim-Muslim ticket, or reach out to Christians for a dialogue instead of hiring fake bishops and fake church groups to further embarrass the Church.
He went on: "Why are they embarking on a vicious media war against Christian Association of Nigeria (CAN) and the church instead of seeking reconciliation? Truly, things are not adding up.
He further listed other reasons why Christians, Northern Nigerian Christians, in particular against the Muslim-Muslim ticket.
"Christians all over the country see this Muslim-Muslim ticket as a deliberate and premeditated attempt to introduce and firmly entrenched religion into the politics of this country. This, of course, will lead to further disharmony in the hitherto fragile coexistence of the Nigerian society, disrupt peace and hamper both social and economic development of the country.
"Christians, and indeed most enlightened Nigerians are at a loss as to why people that intend to govern a country with our kind of diversity would choose this path to power. This is very divisive and must be rejected by all patriotic Nigerians.
"Implied in this ticket is the insinuation that northern Muslims are not willing to vote for a ticket that has a Christian on it and on which they are not represented. It is our belief that northern Muslims would have seen the justice in a Muslim-Christian ticket and would have given it their overwhelming support had the party been inclined to do so," he said.
According to him, what this means is that Christians should also not vote for a ticket in which they are not accommodated.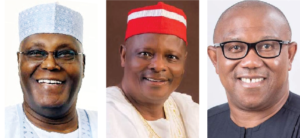 "This is truly a wakeup call for all Nigerian Christians. We didn't start this religious politics, APC and its candidates did; so, all of us should take note and act as appropriate, " Lawal added.
Lawal explained that the Northern Christians neither seek to oppress nor dominate any one or any religion, but they will resist any one trying to discriminate against them and their religion.
"We were not the ones that started this fight. The APC started it and must be ready to carry the cross it has created. Blaming Christians and heaping insults on CAN will take them nowhere.
"Clearly, there is an agenda to politically, religiously, and economically suppress and oppress the Northern Christian. But we are up to the task. We will protect ourselves. The PVC and our prayers will be our weapons of choice and we will massively deploy them in 2023," he further stated, adding, however, that they are ready for dialogue.
On his part, the former speaker of the House of Representatives, Yakubu Dogara, said with the Muslim-Muslim ticket in their party, APC, Nigeria is going the way of Nazi Germany.
Dogara, who said the APC wants to disintegrate Nigeria like USSR and Yugoslavia, added that the party looked like a "janjaweed" party.
Dogara stated that Nigeria of 2022 is not the Nigeria of 1993, adding that the presidential candidate of the APC, Bola Ahmed Tinubu, has made a fatal error of judgement.
Dogara, who supported other Christian leaders' stance on the Muslim-Muslim ticket, called on Christians to seek alternative platforms in the 2023 elections.
"Truth must be told that anyone who is not bringing us together is consciously tearing us apart," Dogara said.
The senator from Adamama State, Ishaku Abbo, said no northerner will fight his brother because he is a Muslim, adding that the Christians are fighting injustice.
He called on Nigerians to reject every divisive tendency of individuals to divide the people.
The Nigeria Peoples Party (NNPP) and the Labour Party (LP) yesterday said the decision of the APC Northern Christian leaders calling for Nigerians to vote for political parties fielding mixed religious tickets for the 2023 presidential election is in their favour.
According to the two political parties that spoke separately with LEADERSHIP Weekend, they were strategic in their decision to field a mixed ticket.
Speaking to our correspondent last night, NNPP national publicity secretary, Major Agbo: "A lot of factors are working for us. One, Kwankwaso is one northern politician with a difference. He is very close to the ordinary people. Two, our ticket is a very balanced ticket. We have a core Muslim and a core Christian.
"This is not like what you see in other parties, like the APC that has the Muslim-Muslim ticket. You and I know that in the North, Kwankwanso is very close to the ordinary people and the mood of Nigerians now is to elect somebody who is close to them, somebody who understands their pains, " Agbo said.
According to him, NNPP is the party to beat as Kwankwanso's popularity is not just in the North, but across the entire nation.
"In a secular state like Nigeria, anyone who tells you that religion does not matter is deceiving himself. Anyone who tells you that religion does not determine who wins election doesn't know what he is talking about.
"Even in America where democracy is more than 200 years old, presidents are determined by the Churches and people from different faiths.
"It is insensitive for anyone to think about bringing the same faith as a presidential candidate and vice presidential candidate. It negates the principles of fairness, justice and equity as far as religion is concerned," Agbo added.
Also speaking to LEADERSHIP Weekend, the national chairman of the Labour Party (LP), Barr Julius Abure said everything is working out for their good as a political party that is sensitive to the diversity of the country.
"That's good for us because we have a Christian-Muslim ticket," Abure said of the declaration of the Northern APC Christian leaders urging Nigerians to vote for political party with mixed religious tickets.
"If they are saying Nigerians should vote for a mixed ticket then they are referring to us. That is good for us. It is good news. Perhaps, they don't want to say directly that Nigerians should vote for the Labour Party, " Abure said.
Abure also said the Labour Party followership will translate into votes.
"Nigerians are tired of APC and PDP. The people want an alternative.
"The Labour Party is the alternative, our candidate is the alternative. And that is why we have large following across the country. So, this will translate into votes. I am very confident. We will win the 2023 general elections.
"Let some people not be deceived that we don't have structure. Human beings are the structure, " Abure added.
Speaking to our correspondent in Jos, the Plateau State publicity secretary of the People Democratic Party, PDP, Mr. John Akans said Atiku has demonstrated that he is conscious of the peculiarities of Nigeria by picking a Christian from the South as his running mate since he is Muslim from the North.
According to him, Atiku and Okowa, if elected, will still do the same in terms of distribution of resources, wealth and appointments.
He added that the PDP political structure is not like that of the APC which does not take into cognisance the diversities of Nigeria.
"Atiku will ensure balance in terms of distribution of wealth, and political positions or appointments," he said.