The Director-General of the Oyo State Liaison Office Abuja and Lagos, Hon. Wale Ajani, has tasked the Federal Character Commission (FCC) to ensure inclusive opportunities for indigenes of Oyo State in staff recruitments by Ministries, Departments and Agencies of the Federal Government (MDAs) in line with federal character principle.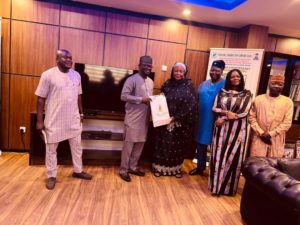 Ajani made the call during a courtesy visit to the chairman of FCC, Dr. Muheeba Dankaka, in company of the management staff of Oyo State Liaison Office in Abuja on Tuesday.
The DG extended greetings from the State governor, Seyi Makinde, to the FCC boss, while apprising her of the pace setting position of Oyo State, saying he would love the State to be treated as such.
Ajani also expressed the desire of the State to collaborate effectively with the commission in order to benefit more than ever before, adding that close collaboration begets more opportunities.
Responding, the FCC chairman, Dr. Dankaka, expressed the commission's willingness to collaborate with Oyo State government, which she said has been long overdue.
She thanked God and Governor Makinde for appointing a new state ambassador (Ajani), who, according to her, has the will to get the state's entitlements from Federal MDAs.
Dankaka also expressed the commission's readiness to meet with Governor Makinde in order to deliberate on how to fast-track the construction of the permanent office for the Commission in Oyo State, which had been budgeted for in the 2022 budget.
She added that the construction of the FCC State office would provide job opportunities for quite a number of indigenes of Oyo State and its catchment areas.
FCC chairman, therefore, appreciated the DG, Oyo State Liaison Office, Hon. Wale Ajani, and his team for coming, stating that the courtesy call was heartwarming, productive and timely.
Earlier, as a matter of courtesy, the DG met with the Federal Commissioner representing Oyo State in the FCC, Prof. Adeniyi Olowofela.