The Archbishop of Lafia Archdiocese, Nasarawa State, His Lordship, David Ajang has said proper religious education not indoctrination is a key solution to Nigeria's problems.
The archbishop made this known during his first pastoral visit to St Matthew's Catholic Church, Kuchikau, where about 446 faithfuls received the Sacrament of Confirmation, and a Chapel of Perpetual Adoration was commissioned.
Highlighting the difference between genuine religious education and indoctrination, His Lordship said indoctrination does not give room for other viewpoints, while the former not only accepts that there are other viewpoints but encourages people to keep an open mind.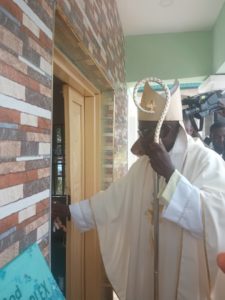 ''Indoctrination, unfortunately, is the kind of education practiced by certain sections. And where indoctrination takes place, it doesn't give room for different views.
For genuine education to take root in Nigerian society, he tasked parents and government to live up to their full responsibilities, the former by laying the proper foundation in raising their children and the latter, by providing functional public education system for the society.
"We have people who are unprepared for marriage but are married. It is not enough to birth to children but it is also about the quality of education you provide them even before sending them to school. if you don't lay the proper foundation, all that the teachers will do later will amount to nothing.
"Education today seems to be for the highest bidder. The more money you have, the more resources at your disposal, the, the more exposed to better education you are. But a vast majority of people do not have such monies. It means government should appropriate more resources to education. Government schools must become more functional.
"I think we must begin by educating the children, and then we will get it right. No child should to be on the streets because all children in the streets are ready recruits in terms of crisis."
Earlier during his homily, the archbishop cautioned the 446 confirmed faithful and other members of the congregation to be wary of how and what they say to people, particularly in present times when jungle justice seems prevalent.
"Nigeria is charged up that we have to be careful of what we say or forward via our phones to other people. For those given to prompt reaction, give people the benefit of the doubt before taking action. A lot of innocent people have died. We have to end our thirst for jungle justice otherwise, we will continue to kill ourselves."
Speaking at the chapel commissioning, Mr. Kelvin Ugwu said he was motivated to construct the chapel owing to the power of prayer in his life.
The spare parts entrepreneur said he started our as a wheel barrow pusher, but combined his hard work with prayers and constant visits to the chapel, which helped shaped his faith and prayer life.
"I hope those who pray in the chapel will also see the power of visiting the chapel as I have," said Ugwu.
Mr. Ugwu alongside Mr. Emmanuel Adiyi and Prince Augustine were conferred Episcopal Award of Excellence for their contributions to the growth of the church by Archbishop Ajang.