Introduction
MP4/MOV videos have become an integral part of our digital lives due to their versatility and compatibility across various devices and platforms. However, like any digital file, MP4 videos are not immune to corruption. Corruption can occur due to a variety of factors, including incomplete downloads, software errors, hardware issues, virus attacks, or improper conversions. When this happens, a reliable MP4 repair solution becomes crucial.
Stellar Repair for Video is a leading software tool meticulously crafted for repairing and recovering corrupt MP4 videos and other popular video file formats. In this comprehensive guide, we will explore not only the common causes of MP4/MOV video corruption but also the robust features of Stellar Repair for Video. Additionally, we will provide you with a step-by-step tutorial on how to effectively repair corrupt MP4 videos using this exceptional software.
Common Causes of MP4 Video Corruption
1. Incomplete Downloads
Incomplete downloads are a ubiquitous cause of MP4 video corruption. When a download is prematurely interrupted due to network issues, connectivity problems, or server instability, it can result in a video file that is only partially downloaded and consequently corrupted.
2. Software Errors
Software errors can significantly contribute to MP4 video corruption. This category encompasses issues with video editing software, media players, or any program that interacts with video files. Crashes, abrupt shutdowns, or glitches during video processing can lead to the corruption of video files.
3. Hardware Issues
Hardware problems, such as a failing hard drive, unstable storage device, or faulty storage media, can directly lead to MP4 video corruption. When sectors on a storage device deteriorate or become unreadable, it can adversely affect the integrity of stored video files.
4. Virus or Malware Attacks
Virus or malware attacks pose a substantial threat to both your system and your video files. Malicious software can tamper with or even delete video files, leaving them damaged and unplayable.
5. Improper File Conversion
Improper file conversion is another common cause of MP4/MOV video corruption. If the process of converting video files between different formats is interrupted, performed with subpar or unreliable software, or involves incompatible codecs, it can result in corrupted MP4 files.
Understanding Stellar Repair for Video
Key Features
Stellar Repair for Video boasts a multitude of key features, making it a standout choice for repairing corrupt video files:
Comprehensive Format Support: The software excels in repairing various video formats, including but not limited to MP4, MOV, AVI, MKV, FLV, WMV, 3GP, and more. This extensive format support renders it suitable for addressing a broad range of video corruption issues.
High Success Rate: Stellar Repair for Video takes pride in its exceptional success rate. With this software, you can rest assured that you have the best possible chance of recovering your valuable video content.
Preview before Saving: Before committing to the recovery process, the software offers you the invaluable ability to preview repaired videos. This feature ensures that the repaired video meets your expectations and quality standards.
Efficient Batch Repair: For those dealing with a multitude of corrupted video files, Stellar Repair for Video simplifies the process by allowing you to repair multiple videos simultaneously. This timesaving feature is particularly beneficial for users with extensive video libraries.
Supported Video File Formats
Stellar Repair for Video provides comprehensive support for a wide array of video file formats, including but not limited to:
MP4
MOV
AVI
MKV
FLV
WMV
3GP
And many more
This extensive format support ensures that the software can effectively repair a diverse range of video files, catering to various user needs.
System Requirements
Before utilizing Stellar Repair for Video, it is imperative to ensure that your system meets the following requirements:
Operating System: Stellar Repair for Video is compatible with latest Windows 11, & macOS Ventura, and below versions.
Processor: Your system should feature an Intel or Apple Silicon processor.
RAM: A minimum of 4 GB of RAM is required.
Hard Disk: Allocate a minimum of 250 MB of free space for the software installation.
Stellar Repair for Video Version: Ensure that you are using version 6.7 of the software for optimal performance.
Pricing and Licensing
Stellar Repair for Video offers various licensing options, including a free trial version for users to evaluate its capabilities. Pricing for the full version may fluctuate, so it is advisable to visit Stellar's official website for the most up-to-date pricing information and licensing details.
Step-by-Step Guide to Repair Corrupt MP4 Videos with Stellar Repair
Now, let's delve into a comprehensive, step-by-step process for effectively repair MP4 files using Stellar Repair for Video.
1. Download and Installation
Begin by visiting the official Stellar website to download Stellar Repair for Video.
Once the software's installation file is downloaded, execute it to initiate the installation process.
Follow the on-screen instructions provided by the installer to complete the installation of Stellar Repair for Video on your computer.
2. Launching the Software
After the installation, launch Stellar Repair for Video by double-clicking its desktop icon or locating it in your list of installed programs.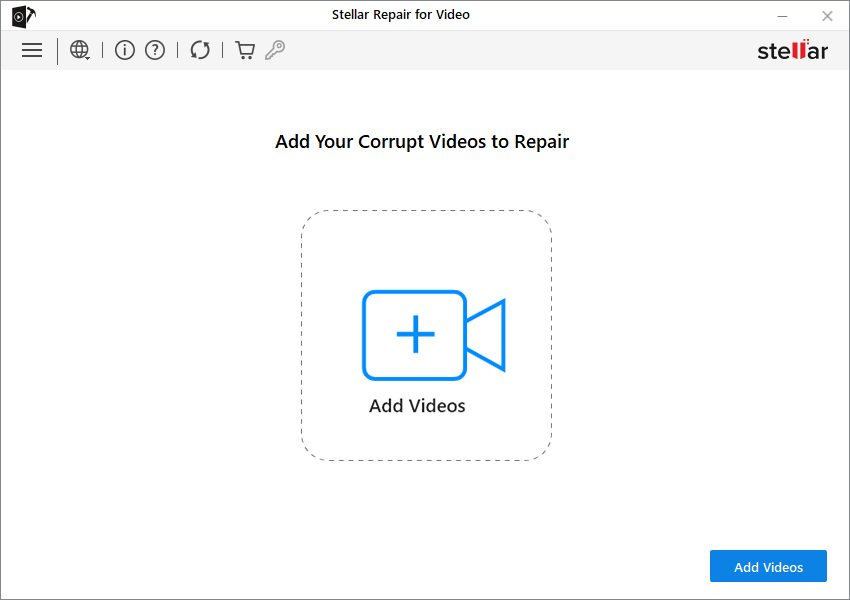 3. Adding Corrupt MP4 Files
In the software's main interface, you will encounter an "Add Video" button; click on it.
Navigate through your computer's directory structure to select the corrupt MP4 files that you wish to repair.
Confirm your selection by clicking the "Open" button, thereby adding the chosen files to the repair queue.
4. Scanning the Corrupt MP4 Videos
With the desired corrupt MP4 files added to the queue, proceed by clicking the "Repair" button.
Stellar Repair for Video will commence the analysis and repair process on the selected MP4/MOV videos. The duration of this process varies based on factors such as file size and complexity.
5. Previewing Repaired Files
Upon completion of the repair process, the software will display a list of repaired files.
To ensure that the repaired videos meet your expectations, take advantage of the software's preview feature. Click on a repaired file to Preview its content.
6. Saving Repaired MP4 Videos
To permanently save the successfully repaired MP4 videos, click on the "Save Repaired Files" option.
Specify the destination folder on your computer where you want to store the repaired videos.
Confirm your selection by clicking "OK," prompting the software to commence the saving process.
Stellar Repair for Video will diligently save the repaired videos to the designated location.
Congratulations! You have successfully repaired your corrupt MP4 videos with Stellar Repair for Video. You can now relish your videos without encountering any playback issues or visual distortions.
Tips for Preventing MP4 Video Corruption
While Stellar Repair for Video stands as a formidable solution for repairing corrupt MP4 videos, it is equally essential to adopt preventive measures to safeguard your video files from future corruption. Here are some invaluable tips to bolster the integrity and longevity of your MP4 video collection:
1. Backup Your Videos
Implement a proactive backup strategy by regularly backing up your video files to external storage devices or leveraging cloud-based backup services. This practice ensures that you have redundant copies of your videos, safeguarding them against corruption or data loss.
2. Use Reliable Download Sources
When acquiring videos from the internet, exercise caution and exclusively rely on reputable and trusted sources. Avoid downloading videos from dubious or unverified websites that may disseminate malicious content.
3. Keep Your Software Updated
Stay vigilant about maintaining up-to-date versions of your video editing software, media players, and operating system. Software updates often encompass critical bug fixes and security enhancements, fortifying your system against corruption-related vulnerabilities.
4. Invest in Quality Storage
Invest in reliable and high-quality storage devices, such as Solid State Drives (SSDs) or dependable external hard drives, to house your video files. Avoid using damaged or aging storage devices that can contribute to data corruption.
5. Use Professional Converter Tools
When engaging in video file converter across different formats, opt for reputable and professional converter software. Refrain from using free or unreliable converters that may jeopardize the integrity of your video files.
Conclusion
Video corruption can be a source of frustration, potentially causing the loss of cherished video content. However, armed with the right tools and knowledge, you can effectively recover and repair your valuable video files. Stellar Repair for Video emerges as a powerful and user-friendly solution, offering you an exceptional chance to restore corrupt MP4 videos to their pristine condition.
In this robust guide, we have delved into the common causes of MP4/MOV video corruption, elucidated the feature-rich nature of Stellar Repair for Video, and imparted a comprehensive, systematic tutorial for successfully repairing corrupt MP4/MOV videos utilizing this exceptional software. Furthermore, we have shared invaluable preventive tips to fortify your video files against future corruption.
By following the meticulously outlined steps in this guide and adhering to preventive measures, you can ensure the longevity and integrity of your MP4 and MOV video collection, permitting you to savor your videos without the specter of corruption or playback issues haunting your digital experiences.